Rotundone is a fruit compound responsible for the peppery aroma in wines.  Because of its low sensory detection threshold (16 ng/L in red wine and 8 ng/L in water), rotundone produces a strong aroma effect in wines like Syrah, Mourvèdre, Durif (ie. Petite syrah) and Duras. Recently, researchers have demonstrated that Syrah grapes cultivated in Japan (Takase et al.) or in Australia (Scarlett et al.; Drew et al.)  accumulate large amounts of rotundone.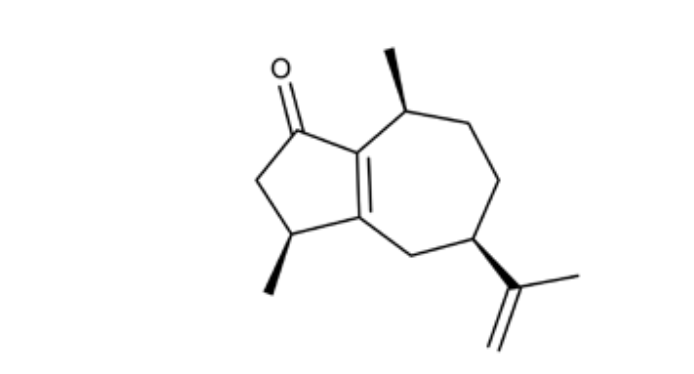 Figure 1: Rotundone molecular structure
Rotundone variation within vineyard has a spatial structure
According to an Australian study led by Bramley and colleagues, within-vineyard variation in the concentration of the 'pepper compound' is spatially structured.
This means spatial variations in the land supporting the vineyard (such as soil electrical conductivity, slope, aspect) induce variations in plant development and fruit microclimate, which ultimately affect fruit composition. Interestingly, this spatial variability is stable between seasons, even when seasonal differences in mean rotundone concentration are very large.
Mapping rotundone spatial variability
In order to determine practical ways to map rotundone spatial variability, a study led by Geoffroy and colleagues was carried on a vineyard from the South West of France (cv. Duras). Geoffroy et al. assessed vineyard spatial variability through measurements of trunk circumference; pruning wood weights (Physiocap® and manual weighing); airborne multispectral imagery (NDVI), and yield at harvest.
Figure 2: Spatial variability mapping with Physiocap® 
The researchers used the smart point method to optimize vineyard sampling. Smart points made of 50 vines were positioned within each uniform area to track vine and fruit indexes. At each smart point, rotundone was measured in wines obtained by microvinification techniques. Authors have shown that rotundone concentration was more than 50% higher in wines made from areas where more wood biomass was accumulated. Thus, their results suggest that a link exists between spatial distribution of plant wood accumulation and rotundone.
Those results illustrate the benefit of targeted vineyard management strategies, including selective harvesting, to manipulate wine style. Using vineyard mapping technique during dormancy (i.e. after leaf fall) using trunk circumference or Physiocap® is a practical way to determine next season's strategy during wintertime.